The Hobby Components i3 3D printer is a low-cost, full-featured 3D printer based on the Prusa i3. This is a built-it-yourself 3D printer kit. The printer works by layering plastic (PLA or ABS) to form a solid object. The aim is to allow you to turn your own prototypes and designs into a reality. There are also a whole host of websites out there with designs already made, one we've found particularly useful is Thingiverse.
Please note: Although this kit is designed to be as easy to construct as possible, you will require a basic mechanical and electrical knowledge to build it. A basic understanding of 3D printers is also recommended.
Here's a video we took recently whilst printing out a cog - Going from conception, to design, to print all in one day is excellent. This cog however, was a file downloaded from Thingiverse.
Examples printed using the i3 printer


Free extras supplied with the kit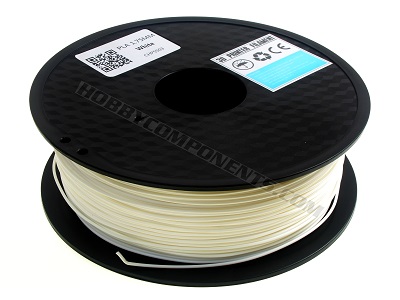 THIS KIT NOW INCLUDES A FREE REEL OF 1.75MM PLA!
What colour can I print?
The PLA we stock is currently available in Red, Blue, fluorescent green, black and white. The printer has one head, and as you cannot stop a print part way through, if you want to construct an item that uses more than one colour, we suggest designing it in several parts, which can then be attached together.
What tools will I need?
The only additional tools you'll need to get up and running are solder, a soldering iron (for soldering power cables to heatbed), a small terminal screwdriver (the correct size Allen keys are already included in the kit), and an optional spirit level for mechanically calibrating the printer.
The kit contains everything you need (except the solder, iron and screwdriver mentioned above) to build this excellent printer. We fully constructed one of these ourselves and you can see it working in our youTube video here:
The kit comes with all the files you need to get started, including a build video and photographs, all added to a pen drive for ease of use.
Electronics included in the kit:
Custom designed controller board with Arduino compatible ATMega2560 microcontroller
All cables and enough cable wrap to cover the wires to avoid snagging
MK2 Heatbed plus solid 4.5mm aluminum build plate
1x Hot end thermistor
1x Heatbed thermistor
PSU (please take care to switch the PSU to the correct voltage before plugging in. There is a switch on the side of the unit).
Endstops
5x Nema 17 Motors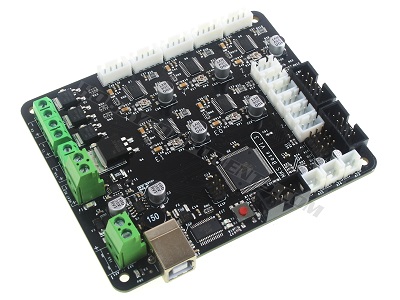 New custom controller board makes connecting all the electronics much simpler.
Software
We use Repetier software and have found it to be particularly easy to use with this printer. To download, please go to: http://www.repetier.com/
Specification
Build Area: 20x20x18CM
Filament Types: 1.75mm PLA and ABS
Extruder diameter: 0.3mm