TELEPHONE LINES
Unfortunately due to the level of orders we are currently experiencing, we aren't always able to answer calls. If your query is urgent, please do leave a message or email sales@hobbycomponents.com and we will get back to you as soon as we are able.
1Hz to 150KHz PWM Frequency Generator Module
A signal generator module which is capable of generating a single PWM output with a programmable frequency between 1Hz to 150KHz and a duty cycle between 1 to 100 %. Both frequency and duty cycle can be programmed via 4 push buttons which increment or decrement the frequency in...
A signal generator module which is capable of generating a single PWM output with a programmable frequency between 1Hz to 150KHz and a duty cycle between 1 to 100 %. Both frequency and duty cycle can be programmed via 4 push buttons which increment or decrement the frequency in 1Hz, 10Hz, 100Hz, or 1KHz steps (depending of frequency) and duty cycle in 1% increments (see specification below). Current frequency and duty cycle can be viewed on a clear 1.5" display consisting of white text against a blue backlight.


Specification:

Product Code: HCMODU0134
Supply Voltage: 3.3 to 16V
Supply Current: ~30mA (no load)
PWM Amplitude: PWM amplitude = Supply voltage
PWM Freq (min): 1Hz
PWM Freq (max): 150KHz
PWM Freq Resolution: 1Hz (<100Hz), 10Hz (<1KHz), 100Hz (<10KHz), 1KHz (<150KHz)
PWM Duty resolution: 1% (>2% at 100KHz and above)
PWM Output current: 30mA at 16V Vin (output is supplied via 100R pullup resistor from Vin)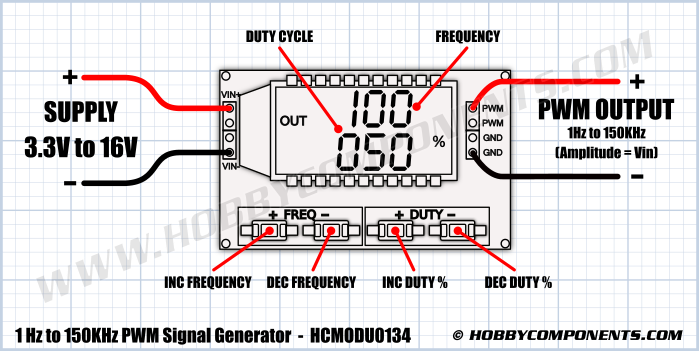 Frequency display:

1 = 1Hz
100 = 100Hz
1.00 = 1KHz
10.0 = 10KHz
1.0.0 = 100KHz