The ESP8266-D1 is a wireless 802.11 (Wifi) microcontroller development board compatible with the Arduino IDE. It turns the very popular ESP8266 wireless (WiFi) module into a fully fledged development board. The layout of this board is based on a standard Arduino hardware design with similar proportions to the Arduino Uno and Leonardo. It also includes a set of standard Arduino headers which means many existing Arduino shields can be plugged directly into the board (see note below).

The development board also includes a CH340 USB to serial interface giving it the ability to be connected and programmed directly from your computer and requiring only a common micro USB cable – no additional interface hardware or configuring is required. Once connected to the computer, and drivers have been installed, the ESP8266-D1 will appear as a standard serial COM port. The ESP8266-D1 can be programmed directly from the Arduino Integrated Development Environment (IDE) which is freely available for download from the Arduino website (arduino.cc).

Direct Arduino IDE support for this development board can be added with just a few mouse clicks via the built-in board manager feature. Programming the ESP8266-D1 via the IDE is then as straight-forward as programming any standard Arduino development board. Many of the default Arduino commands will work including digital and analogue pin functions and many examples are included in the IDE which demonstrate how to take advantage of the ESP8266s WiFi capabilities. These examples range from simply blinking an LED to turning the ESP8266-D1 into a stand-alone web server.

To quickly get going we have provided an Arduino setup guide on our blog site here.


Please note: This board requires a USB driver to be installed. Currently supported operating systems include all 32 & 64 bit versions of Windows 7,8, & 10. Drivers can be found at the bottom of this post.

This a 3.3V development board and is not compatible with 5V hardware. Please check comparability before purchasing Arduino shields.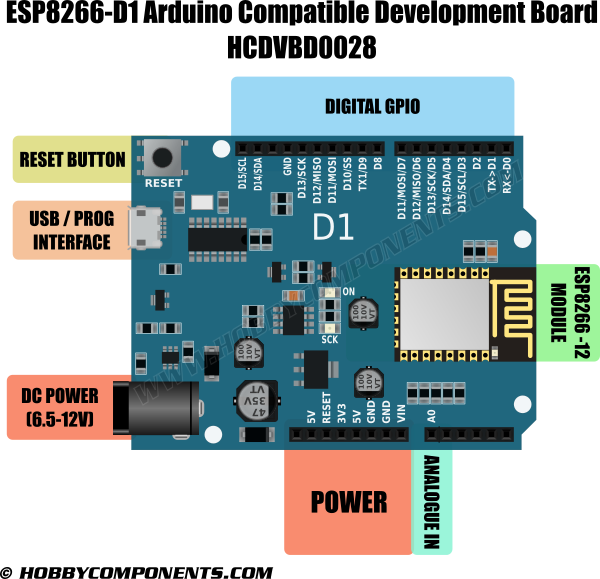 Features:

ESP8266-D1 Development Board:

• Product code: HCDVBD0028
• Integrated ESP8266 module with 32-bit 80MHz microcontroller/4M flash
• microUSB serial/programming interface
• Can be powered via USB cable – no external PSU required
• Arduino Compatible headers
• Directly supported by the Aduino IDE
• 2.1mm external DC PSU socket (6.5 - 12V)


ESP8266 Module:

• 802.11 b/g/n
• Integrated low power 32-bit MCU
• Integrated 10-bit ADC
• Integrated TCP/IP protocol stack
• Integrated TR switch, balun, LNA, power amplifier and matching network
• Integrated PLL, regulators, and power management units
• Supports antenna diversity
• WiFi 2.4 GHz, support WPA/WPA2
• Support STA/AP/STA+AP operation modes
• Support Smart Link Function for both Android and iOS devices
• SDIO 2.0, (H) SPI, UART, I2C, I2S, IR Remote Control, PWM, GPIO
• STBC, 1x1 MIMO, 2x1 MIMO
• A-MPDU & A-MSDU aggregation & 0.4s guard interval
• Deep sleep power <10uA, Power down leakage current < 5uA
• Wake up and transmit packets in < 2ms
• Standby power consumption of < 1.0mW (DTIM3)
• +20 dBm output power in 802.11b mode
• Operating temperature range -40C ~ 125C
• FCC, CE, TELEC, WiFi Alliance, and SRRC certified
EXAMPLE ARDUINO SKETCH AND DRIVER DOWNLOADS CAN BE FOUND ON OUR SUPPORT FORUM HERE.