TELEPHONE LINES
Unfortunately due to the level of orders we are currently experiencing, we aren't always able to answer calls. If your query is urgent, please do leave a message or email sales@hobbycomponents.com and we will get back to you as soon as we are able.
Breakout board for A4988 Stepper Motor Driver
This item (HC3DPR0038) is a breakout out / adapter board for the low cost A4988 stepper motor driver board. It has a number of connectors that allow for easy interface of a stepper motor, power, and control signals to the A4988 driver module. Header sockets are provided so that the driver module can be easily inserted and removed from the breakout board. Standard 0.1" pitch headers...
This item (HC3DPR0038) is a breakout out / adapter board for the low cost A4988 stepper motor driver board. It has a number of connectors that allow for easy interface of a stepper motor, power, and control signals to the A4988 driver module. Header sockets are provided so that the driver module can be easily inserted and removed from the breakout board. Standard 0.1" pitch headers provide a means of connecting power and control signals (enable, direction, and step/clock). A 4 way socket provides a solderless connection for stepper motors with JST XHP-4 type connectors, or alternatively pads are provided for soldering the motor wires directly to the breakout board. Finally a set of 3 DIP switches allow for configuration of the microstep settings. 

For a compatible A4988 driver module please see item HCMODU0068. Forum post for this module can be found here: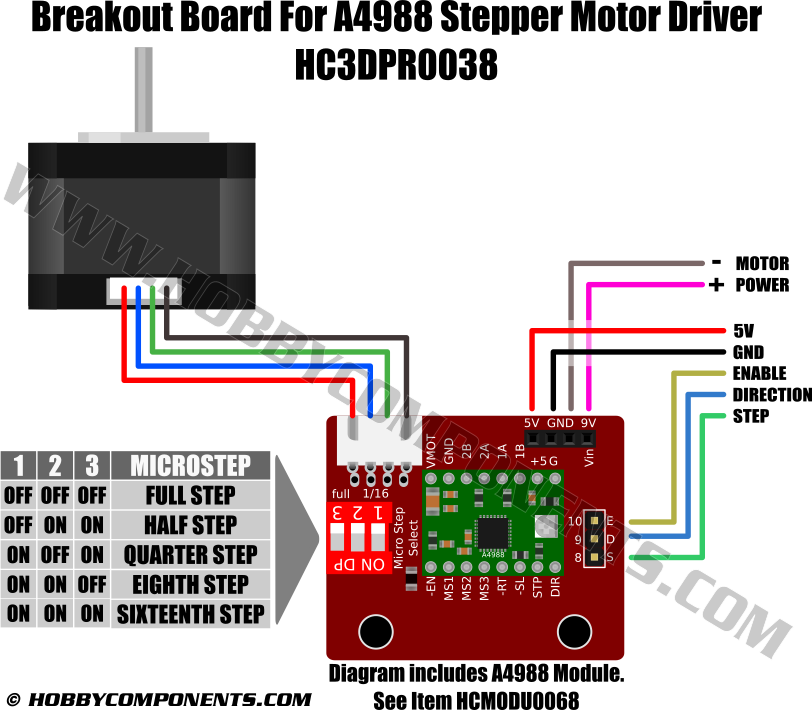 Specification:

Product code: HC3DPR0038
Compatible driver board: HCMODU0068
Power supply (logic): 5V
Power supply (motor): 8 - 35V (see specification for A4988 module)
Motor connector: JST XHP-4
Dimensions (L x W x H): 42mm x 34mm x 9.5mm (excluding A4988 module)